Automotive Global Awards - North America 2016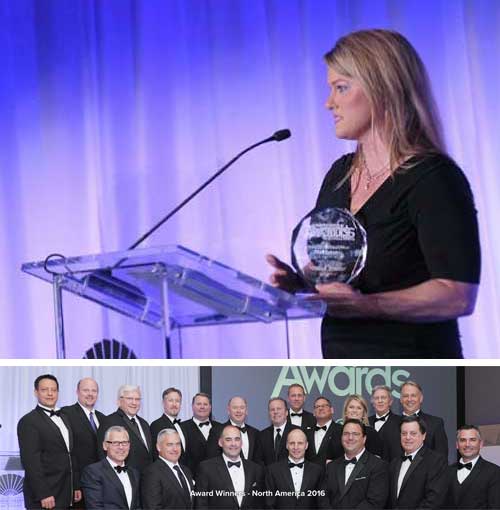 NEWS
This award "Rising Star Supply Chain" went to Shay Sidner, Director of Operations, flexis North America Inc., for her work on interconnectivity and transparency within the supply chain, combining information about orders and material whilst connecting demand with inventory and transport requirements.
Through continued support of companies to become more efficient, innovative and competitive in their supply chain process, Shay, along with her colleagues at flexis will continue their focus on effective supply chain optimization to enable intelligent manufacturing and to minimize operating risks in a global network.
"It is such an honor to be nominated for the Raising Star Supply Chain award and to be chosen as the recipient by such a distinguished and accomplished group," said Sidner, who also credits her colleagues at flexis with pushing to strive for continued excellence.
"Receiving this award exemplifies the knowledge, dedication, and support provided by my colleagues at flexis who work constantly to keep up with the rapid evolution of technology, to understand the challenges and complexities of today's supply chain, and to work closely with our customers to bridge those into innovative processes and solutions."
Sidner also credits Three6Zero and similar organizations in the Automotive Industry with promoting collaboration, innovation, and information sharing among industry leaders to help ferry advancements in the supply chain sector from concept to reality. For her, conferences such as this are key in driving a more broadened vision of supply logistics on a global level.
A highly-regarded supply chain expert, Sidner has more than 10 years experience with supply chain optimization and solutions. Her career has largely been focussed on ensuring manufacturing companies who partner with flexis function as efficiently and profitably as possible.
This award is the second Sidner has received in 2016 for her work within the supply chain industry. She was recognized in February as a 'Pro to Know' by by the demand and supply chain publication Supply & Demand Chain Executive.
About flexis North America, Inc
flexis North America, Inc. is a division of Germany-based flexis AG. flexis is a leading solutions provider of sales & operations planning (S&OP), advanced planning & scheduling (AP&S) and supply chain management (SCM) software and consulting services that enable intelligent manufacturing and minimize the risks of operating in a global network.